We Know Real Estate.
Request our complete guides, free! You'll receive a top down picture of nearly everything you need to consider as a real estate buyer or seller in the San Francisco, Bay Area market. Get more informed by requesting our guides below!
Learn more about
Top 10 things you need to know before selling your home, including tips for low-cost improvements to increase your selling price Discover when to make smart repairs to improve your property and increase equity A complete, step by step breakdown of the buying process The Seven Steps to Owning a Home, and how to maximize the success of your transaction every step of the way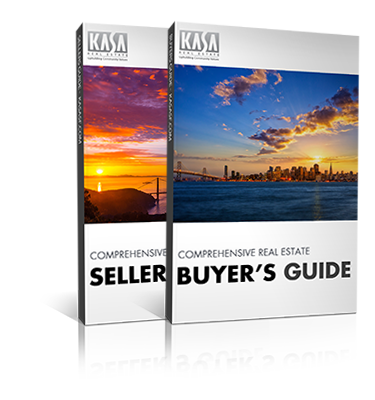 Download the guides below or ask a question and we'll answer promptly!
SEE WHAT OTHERS ARE SAYING
JC P.
"I worked with agents in different countries and never had such an awesome agent. Adam is kind, knowledgeable, listens, provides great insights and suggestions. Adam knows the bay area very well and shares his knowledge. He really partners up with you to make make sure you are happy and find your house!"
Andy L.
"Adam was my buying agent in 2016 and my selling agent in 2020. My experience on the buying side was so positive, using KASA to sell my house was a no-brainer. I realized early on that the process of house selling is very involved - there are a lot of factors to consider that a less experienced agent may overlook. Getting the house sale-ready in and of itself was a challenge, as we had to reach out to numerous contractors for painting, landscaping, and other general contracting needs. Adam essentially served as the project manager, connecting with reputable contractors to get all the work done in a timely manner. On a daily basis he would reach out to discuss progress, send pictures, and advise any decisions that needed to be made. Afterwards, Adam managed the inspections and put together the disclosure materials that was as comprehensive as possible - so comprehensive that the eventual buyer did not require contingencies! The listing and marketing were thorough, reached a broad audience, and included several high-tech touches including drone footage and a virtual house tour. Ultimately our house generated multiple offers, and we sold above list price within 7 days of the initial listing. Even after the winning offer was accepted, Adam continued to follow up on various issues (minor addendums to the contract, raccoon issues in the backyard, and even shipping a few small items I left behind in the house). The service I received with Adam as my agent is total - great communication, a wealth of real estate experience, thorough & persistent work - this is the combination few other agents can match."
Megan & Andy
"I can't say enough good things about Adam Ettenson! His industry knowledge matched with his easy-going nature made working with him a dream, especially as first-time home buyers.

From the search process to final closing, Adam knew how to answer any questions or worries we had while also letting us control decisions by clearly laying out our options. We never felt rushed in any choices but knew Adam was available to start actioning anything once decided. Even after closing, Adam also went out of his way to make himself available to help.

If you're thinking about buying or selling in the Bay Area, Adam is your man!"
Megan & Andy R.
Santa Clara
Matt L.
"Being a first-time home buyer in the Bay Area can be a little daunting, but Adam guided us through the process from the earliest stages all the way through move-in and beyond. Adam won us over with his informed and helpful but laid back approach. At every step, we knew Adam had our best interests at heart, and his advice was spot on. He was responsive, available, and aggressive in getting information when we needed it; patient when we wanted a little space to think. When it came time to make offers and negotiate, Adam gave us great advice and secured a deal we were really happy with. We would never be in our new home without him!"
Nanette Y.
"We are fortunate to have found Adam Ettenson in helping sell our property by staging it. He took the time and effort to make the selling quicker and also having a professional photographs taken. His hard work and knowledge of what it takes to sell a home really paid off!

We highly recommend Adam Ettenson to everyone we know. He is a Pro and genuinely nice guy."
Kathy S.R.
"Adam Ettenson has been my Real Estate Broker on two occasions starting in 2013 and most recently during the sale of my home in 2019. I relocated prior to listing the property and Adam graciously took over and led the entire process. The experience at each phase was superior, such as his knowledge of the Bay Area housing market, useful insights on pre-listing renovations/staging, innovative efforts in developing prospects, effective showings and proactive facilitation during the sale negotiations. All of these tasks, whether business-related or interpersonal, were done with a high degree of competence, humility, integrity and grace. Adam is a very experienced real estate broker and a pleasure to work with."
Dan M.
"We have bought more than a dozen houses over the years, and Adam Ettenson is without question the most thorough, creative and responsive broker we have ever had the pleasure to work with. He demonstrated rapid responses to questions, enormous commitment to finding us a house, he was generous with his time, he anticipated issues and headed them off before they occurred, and he was a great advocate. We could not recommend him more highly!!!!"
Madeleine B.
"Adam helped us purchase our dream vacation home in Napa in a competitive bidding situation. After looking casually at properties in Napa for some time, we found a home that was ideal for our family, only to find that offers needed to be submitted within three days. Fortunately, a friend referred us to Adam, who promptly and diligently sprang into action. He immediately performed a competitive market analysis, researched the neighborhood and spoke with the sellers' agent to obtain useful background info to help guide us in writing an offer that was competitive yet within our budget and comfort level. The sellers narrowed the offers down to ours and another party, who bid a higher price. Fortunately, Adam skillfully negotiated terms that were more favorable and our offer was accepted! Adam was also extremely helpful with finding competent and thorough home and pest inspectors in the Napa area. His experience was key when assertively yet diplomatically negotiating credit back for unanticipated issues after many back and forth discussions with the sellers' agent.

Buying a home can be an emotional process, but Adam kept us grounded and focused and helped alleviate a lot of the stress by serving as an attentive and trustworthy agent. He was very responsive in his communication and acted with integrity throughout the entire process. Most importantly, his skills & experience helped us obtain a home that will be a happy place for our family for years to come."
Madeleine B.
San Francisco & Napa
Linda M.
"Adam Ettenson recently helped me and my family sell our home in Willow Glen, San Jose. He did an exceptional job, far exceeding my expectations, going well beyond what we thought was ever possible. Our home had great bones and tons of potential but had some deferred maintenance as well.

We needed to make sure that we had the right plan to prepare our home to get the most from the sale and Adam knocked it out of the park. He set up a strategy and over the course of several months he advised us on what we needed to do to be successful. He also helped us save money by only recommending the repairs that were sure to pay the largest dividends.

Once the home was ready, he brought in his team of professional stagers, photographers and had his graphic designer which produced amazing marketing materials. When he was done, our home looked unbelievable, it was a complete transformation. His aggressive marketing strategy created HUGE exposure of the home and the results speak for themselves. We had approximately 700-800 buyers attend our open houses and more than 200 disclosures packages were downloaded. We had over 50 offers and, in the end, we sold the home for $465,000 over asking!

Adam's years of experience and his knowledge is the difference maker. He is honest, reliable, and is always eager to help. And Adam truly cares about his clients. I now consider him a friend and I feel incredibly fortunate that we chose him to sell our home."
James Scherber
"We simultaneously sold the family home in San Francisco and purchased two in Seaside, Oregon, a daunting process. Adam held our collective hands through the entire extensive process of staging/listing/selling our home here in San Francisco. Adam allayed all of our fears and negotiated a selling price significantly higher than our expectations.

Adam also went above and beyond the call by coordinating with my realtor in Oregon and working through various problems as they happened there. I cannot recommend Adam enough.

It is extremely rare in this day and age to meet someone with Adam's integrity and character. We count ourselves extremely lucky in having found him."
James Scherber
Seaside, OR
Adam is an honest, professional, and reliable realtor, who's become our true advisor.
""Adam is an honest, professional, and reliable realtor, who's become our true advisor."

We were first-time home buyers and a little intimidated and daunted by the whole complex process. Adam was our rock-solid support and guidance throughout the entire process, from our first meeting with Adam, to the first home visit, and to the final day of closing several months later. He took time to listen and understand what was important to us and was honest and upfront in his assessment of different aspects. He played the role of an advisor, never pressuring but simply offering his analysis of what he observed, which was what we greatly needed as first-time home buyers. During an open-house visit, he would evaluate the house and point out both pros and cons of the house, which many times totally escaped our attention, all while providing us the space to make our own decision. And just as importantly, he was honest when he didn't know an answer.

He was knowledgeable of the areas of our search and actively listened as we expressed our needs and desires. Throughout the search and selection process, Adam was attentive to our needs and provided value-added assistance, advice, and counsel as the search went on for the right house. Adam understood the current real estate market and expertly helped us navigate the real estate process. In fact, Adam gently reminded us of our search criteria when we lost our focus and helped us refocus.

Adam never left any of our questions or inquiries unanswered by making himself available for us. He patiently listened to and answered our many, very many, questions and provided directions throughout the process. He was always professional in his manner, courteous in his demeanor, and focused his efforts on our behalf. All his professional competence was matched by a personality that is genuinely warm, kind, and authentic. Even more importantly, Adam made us feel valued as clients and as friends. It is not often these days to find such a dedicated and conscientious professional like Adam, who strives to make service excellence and client focus and satisfaction more than just a cliché.

Our family is very happy with our first home and we couldn't have been more pleased with Adam's service and representation. We thank Adam for the time and efforts he spent with us, making our first experience as easy as it was! We definitely recommend Adam and Kasa Real Estate without any reservation to anyone seeking an honest, professional, and reliable realty professional to guide them through the home-buying process. A GREAT MANY THANK-YOU'S TO ADAM!"
Simon T. & Meg S.
Daly City, CA
Outstanding Representation
"Adam Ettenson did an outstanding job in helping us relocate from the East Coast to the Bay Area. He was very patient in showing us numerous homes over many months until we found some options that were attractive to us. Once we identified them, he guided us through the bidding process using comps and other analysis to make sure we put in bids that had a chance to win but were fair to us. After a few attempts we were able to close on a house. During the closing process, Adam assisted us in negotiating concessions with the seller that saved us thousands of dollars. He has always been helpful in identifying contractors and service companies post close to help us get settled in our new home.

Adam is truly a 5 star broker and we would recommend him highly to anyone who is looking to buy a property in the San Francisco Bay Area."
Adam is a Fantastic Realtor
"Adam is a fantastic realtor - I have used him myself both to buy and sell a home, and I have recommended him to several colleagues and friends, all of whom have been extremely happy with his services. Adam is honest, trustworthy, reliable and intelligent, and he always looks out for the best interests of his clients. He is an experienced negotiator and is extremely responsive; he always responded quickly to my emails, texts, and phone calls. I particularly appreciated how hard working and diligent Adam is; he will go the extra mile for his clients. Most importantly, Adam is a local who knows the market inside and out. He is knowledgeable and an asset to anyone looking to buy or sell real estate."
Adam is FANTASTIC!
"Adam was my agent in the purchase of my home in the Duboce Triangle. In a word, he was FANTASTIC! I highly recommend Adam to anyone interested in buying a house; and that's true whether this is your first time in the San Francisco real estate market or experienced with it. First, Adam is incredibly knowledgeable about the market, which as you might imagine is invaluable in analyzing price point and comparable sales, and developing very competitive offers. His knowledge and experience, though, also have an incredible benefit - he knows about movements in the market even before they are readily apparent. This was especially helpful to me because his skills and contacts meant that I could move on my current home right away, and to lock in a contract before comparable homes in the neighborhood started posting higher. Second, Adam understood what I was looking fo. In the end, I had a true partner who understood what I wanted and needed; and he delivered! Third, Adam is a great guy. This was my first home purchase - in San Francisco - at what then seemed the height of the market - while I was busy at work - when I'm already predisposed to worry. Adam is not only understanding, but an empathetic listener and a friendly voice of reason and calm when things look tough. That was especially true for me on a number of occasions, including when my first offer was turned down and then again through the process of wrapping up the ultimate purchase. Adam is FANTASTIC! The closest thing to a painless experience in the San Francisco real estate market you can get."
Honest and Reliable
"My husband and I worked with Adam to purchase our first home. Adam was a great resource with strategy and legal guidance from the beginning of the process. Adam spent many weekends and evenings with us as we searched for the right home. He always approached his work with a thoughtful eye and always furthered our best interest every step of the way. Adam consistently displayed patience, knowledge, respect and kindness throughout our time working together. We finally found the right home and with Adam's guidance we put in an aggressive offer and we were selected over 29 other offers! We were ecstatic and within 30 days we moved into our first home. The closing process proved to be challenging but Adam always kept things in motion and made sure we did what we had to close escrow. We are so appreciative of the months of hard work that Adam provided to us and we would recommend him to anyone. He is honest, reliable and provides a wealth of knowledge of the Bay Area real estate market."
Honest and Hardworking
"When I needed to sell my condo in San Francisco, I needed to find a realtor with whom I could connect and who shared my views about what was appropriate when selling a home. When I met Adam Ettenson, I found such an individual. From the beginning of our discussions he listened, he advised and he provided me with information so that I could organize the process. We were in contact throughout every repair or inspection so that I was able to get the condo ready for market. I found Adam not only attentive but thorough in his approach to the job at hand. Adam was even able to find a critical document that was an enormous help to me with my transaction, a document that was not previously disclosed by the owner who preceded me. He is most of all honest and hardworking. He is also someone who is concerned with giving back to the community he has worked in. That is something I very much appreciate. Thank you Adam."
Adam Proved His Mettle as an Agent Par Excellence
"Adam was recommended to us by a colleague when we were in the process of moving back recently to the Bay Area. We initially focused our efforts in SF, where Adam is based but soon realized that our children, who were starting high school, will be better served in Marin. While we made a few unfruitful offers, Adam was very patient with us and guided us through the process calmly. It paid off when we landed a home that is perfect for us. It was certainly worth the wait and Adam proved his mettle as an agent par excellence. We would highly recommend him for anybody looking for a home in the San Francisco Bay Area."
I've found an Agent for Life
"I do not have enough good things to say about Adam. Adam helped me find a home in a hyper-competitive real estate market. We worked together for 9 months. When we found the house we would eventually win, Adam presented me in the best possible light. My bid was selected despite not being the top offer. The story does not end there. The house we won had several liens that the seller had to re-allocate in order to make the title sellable. Adam helped me through each step, many of which were tedious and agonizing! It took us 3 months to finally close. I could not imagine going through this ordeal with any other agent. Adam kept us on top of ordeal, making sure we were always in the loop, and communicated tirelessly with the selling agent to make sure our deal went through. Throughout this process, Adam was extremely responsive. He answered almost every call right away and responded to voicemail and emails immediately. He worked late nights on some daunting bids. He helped me consider issues I never would have considered on my own. I feel very fortunate to have found him as my agent. He has gone the extra mile for me and then some. I feel like I've found an agent for life."
I would Recommend Adam to Anyone
"I was overjoyed with the exceptional job Adam Ettenson did for me in selling my home. He is extremely knowledgeable and is able to explain the most difficult real estate concepts to anyone, even to someone like me that was almost completely ignorant of the field. Also, Adam is extremely responsive. I was able to call or email him at any time and if he was busy at that moment he got back to me extremely promptly. I had some unusual problems with the sale of my home and because of his diverse background having worked in real estate for many years and being a practicing attorney before that, he was able to advise me and help through a difficult situation. This brings me to what I feel is Adam's best quality as a real estate agent: he is very willing to give clear, honest and direct advice. I interviewed three agents before I chose Adam. I told all of them that because I had very little real estate or business experience. I would want them to clearly advise on what they believed would be the best course of action for me when there were choices to make. As I interviewed all of these agents I asked them for their advice on a particular problem I had, one where there were a number of ways it could have been handled. The three other agents told me two or three ways this issue could be resolved but said they didn't feel comfortable stating which option they thought would be the best. Only Adam directly told me what he thought would be the best way to handle the problem. I would recommend Adam to anyone thinking of buying or selling a house. He is extremely helpful, knowledgeable, responsive and able and willing to give clear and direct advice."
Exceptional Knowledge and Experience
"Adam is an extremely reliable and knowledgeable real estate professional. Throughout the complex transaction I could rely on his exceptional knowledge and experience to help allay any of my worries. I not only appreciated his thorough research and explanations but also his punctuality, accessibility and responsiveness. His warm and caring manner is truly genuine and was a breath of fresh air. I highly recommend Adam without reservation."
We Give Him our Very Highest Recommendation
"My wife and I met Adam while touring properties. He was the listing agent hosting an open house. In the course of our tour of the home with Adam, we were quickly impressed by his engaging demeanor and his sharp insights into the marketplace. Shortly after meeting him, we called upon Adam for his help to find us our first home. From that initial meeting at our place, until we closed on a new home several months later, Adam was a tireless advocate and adviser. Despite the challenges that the San Francisco real estate market presents, we felt confidence in every step of the way working with Adam. He was diligent in his efforts to guide our search, and provided intelligent and honest advice at critical times. His accessibility was continual, his company was a pleasure, and his professional guidance was crucial. We give him our very highest recommendation."